Minor incidents between school students and riot police occurred on Friday in downtown Athens during a protest march to commemorate the killing of teenager boy Alexandros Grigoropoulos by a policeman in 2008.
fired tear gas via @dromografos
Outside the Athens university, when the protest started, students hurled stones and oranges against riot police squads, while the latter fired tear gas.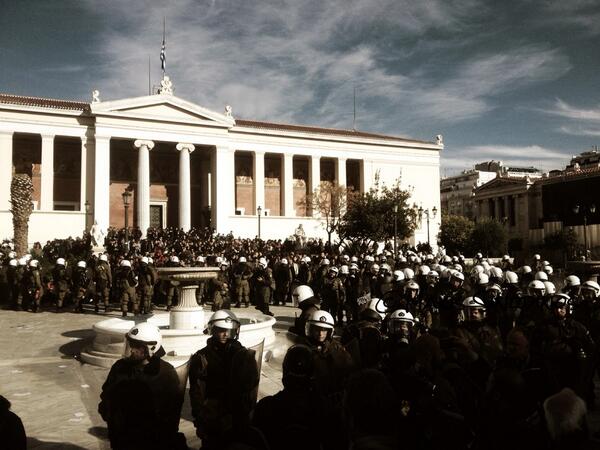 Riot police surrounded students outside Athens university (pict @MakisSinodinos)
A little earlier at nearby Korai Square, a group of 30 protesters wearing hoods attacked with fists and kicks a small group of traffic policemen. One policeman suffer minor injuries in the face.
nonchalant  pict by @dromografos
An unknown number of detentions have taken place.
Banner: "We live for today, we struggle for tomorrow"
In Aegaleo suburb of  Piraeus, a group hurled molotov cocktails against the local police station.
Another protest is to be launched at 6 p.m. on Friday with a march to Greek Parliament at Syntagma Square. Metro stations <Syntagma>, <Panepistimio> and <Evaggelismos> are closed to passengers as of 10 a.m. by police order.
more pictures and updates see in Twitter #6dgr